Ah, college ...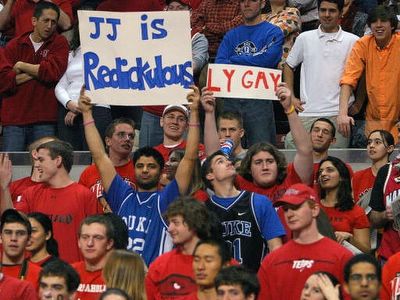 A few photo notes:
This photo is from this link: http://www.dmbtabs.com/redick.jpg (by way of a long chain of emails). Well, I cut off the /redick.jpg portion of the URL and see that this is posted on a Dave Matthews Band site. Odd.

I like the guy with the "ly Gay" sign. If someone was to show me a lineup of everyone in the photo sans signs and ask me to try to choose who was going to fuck with those dorky Duke fans by negating their sign by holding up the word "gay" I guarantee I would choose him.

Speaking of the dorky Duke fans, you have to like them. They clearly are in the wrong section, but are still rockin' the Duke colors, jersey and sign. Big balls or just idiots? My guess is idiots.

The Duke guy without the sign can clearly see that this whole thing is going nowhere good. He should try negating the gayness.

How is it that the "ly Gay" guy has a red marker with him so he could continue on with Maryland supporting color scheme? That red marker alone deserves some sort of school spirit award.
I repeat. Ah, college ...